Fast, Same Day Service for all Brands of Household Appliances!
We at First Aid Appliance Repair proud to provide Trusted, Affordable &  Same-Day Appliance Repairs in Calgary and Surrounding areas. We are able to fix all brands of home appliances.  Our repair have 90 days Warranty.
Red Seal Certified Electric and Gas Appliance Repair Professionals
Over 20 years Appliance Repair Experienced
Journeyman Factory Trained Technician for all makes and models
90 Days Warranty on Repars
Service Charge waived when you repair with us.
---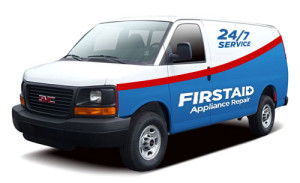 Doesn't it always seem that your appliances seem to break down at the worst possible time?
There is nothing like a broken washing machine,fridge or stove to add unwanted stress to your family life. Not to mention, the additional financial stress knowing you will have to have that appliance fixed or replaced.
Scouring the the internet trying to find someone who is reliable, available and trusted at prices that wont break the bank is also unwanted stress.
That's why at First Aid Appliance Repair, we strive to provide the most dependable, on-time, courteous and professional repair service in Calgary. We have competitive pricing, and the necessary spare parts for all major brands and appliances on hand, so that your repair is done quickly and efficiently. If a part your appliance requires is not in our vans, we are typically able to get it to you the next day. No waiting weeks for parts!
Our technicians are licensed, insured and have experience in working with all brands of home appliances, so you can rest comfortably knowing your appliances are in the best hands. Evening, weekend and holiday appointments are available. We understand the woes of having a broken or malfunctioning appliance, and we are here for you.
Our staff are experienced in finding solutions to repair the following appliances;
∙ Refrigerators
∙ Freezers
∙ Air Conditioners
∙ Dishwashers
∙ Washing Machines
∙ Dryers
∙ Stoves
∙ Ovens
∙ Microwaves
[youtube width="560″ height="315″]https://www.youtube.com/watch?v=fVCmWGxkwTU[/youtube]
Common Appliance Repair Issues
Appliances that are malfunctioning have symptoms. Our technicians are trained to identify these symptoms and accurately diagnose your appliances problem. Let us know if your appliance has a similar problem to any you see in the following examples. If your appliances are showing any different symptoms, call us right away at 1-888-484-9993 and our experts will be able to analyze what is causing your appliance problems.
Common refrigerator problems:
∙ Refrigerator stopped working completely
∙ Refrigerator is making strange noises
∙ Refrigerator "sweats" on the outside
∙ Water leaking from underneath
∙ Water puddles inside your fridge
∙ Ice machine doesn't function properly
∙ Refrigerator won't stay cold
∙ Freezer doesn't stay cold
Common washer problems:
∙Washer does not turn on
∙ Washer is making strange noises
∙ Washer doesn't spin properly
∙ Washer doesn't drain
∙ Washer is leaking
∙ Washer doesn't complete a cycle
∙ Washer does not fill properly
Common dishwasher problems:
∙ Dishwasher doesn't work
∙ Dishwasher will not fill with water
∙ Dishwasher is not draining completely
∙ Detergent is not being released during a cycle
∙ Dishwasher is making strange noises
∙ Dishes don't come out clean after a cycle
∙ Dishes do not dry completely
Common oven problems:
∙ Oven does not heat up
∙ Oven does not power on
∙ Oven does not bake evenly
∙ Oven self cleaning feature not working
∙ Oven is not heating properly
∙ Oven broiler problem
∙ The oven does not turn off
Keep in mind that at First Aid Appliance Repair we repair all major appliances. We serve Calgary and the surrounding area.
You can call us at 1-888-484-9993 or book an appointment online!
---
First Aid Appliance Repair provides reliable and affordable repair services for all home brand appliances in the greater Calgary area. Select your type of appliance below: